Comfort with the idea of robotic surgery varies widely around the Continent, as a DataPoint graphic based on Eurobarometer data shows: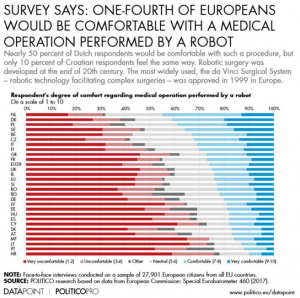 **This infographic is from POLITICO Pro's DataPoint library. DataPoint provides ready-to-use, customizable data presentation slides based on research by POLITICO journalists. To access this DataPoint, and see what else they have in the library, email pro@politico.eu requesting a complimentary trial.**
Less success with AI diagnosis: While about two-thirds of Germans would embrace machine-assisted surgery, artificial intelligence is off to a rocky start in the country when it comes to diagnosing complex conditions. Der Spiegel looks (in English) at why several hospitals have dropped their experiments with IBM's Watson program after disappointing results.