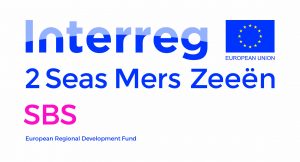 Sadly, it's true – men are backwards in coming forwards in relation to their health, compared to women. The fact that men are less likely than women to visit a doctor – perhaps due to the old chestnut that society expects them to be strong – has a real impact on their health, meaning it's harder to pick up on potential concerns, and help men maintain their wellbeing.
October 10th is World Mental Health Day, an opportunity to highlight this growing trends in poor mental health, and to raise  awareness about initiatives to improve men's health and wellbeing.
'Step By Step' (SBS), a cross-border project co-funded by the European Regional Development Fund's Interreg 2Seas programme, includes partners from France, Belgium and the Netherlands alongside those in Kent, Hampshire and West Sussex, and is currently testing an innovative model to support men and improve their social inclusion and wellbeing. SBS's is primarily working with men at risk of social isolation and poor mental health or wellbeing. 
hd SBS builds on the concept of "men's sheds", which gives men the opportunity to share knowledge, skills, advice and their personal story through activities they choose to do together. In this "safe space" men gain self confidence and are supported to become more engaged with others, with some of them developing new personal and professional life projects. 
Inside SBS Sheds, men have access to peer-to-peer support to facilitate discussion, including on themes of health and wellbeing, which they may find harder to discuss with a doctor. This is supported by a network of local organisers and 'Health Champions' –  men  who can offer their peers advice on health and employment services, and where desired, direct them to the right service providers. 
Thomas Molloy,  from lead partner The Health and Europe Centre, is delighted to confirm that: "26 SBS Sheds are now up and running across all 4 countries, with a further 34 at an advanced stage of development. By 2021, we aim to have around 100 SBS Sheds supporting men across the 2 Seas area."
"The Health Champions programme is already being delivered by trained Health Champions, and along with the Employment Model, which is well under development, it will reach all SBS Sheds during the coming year."