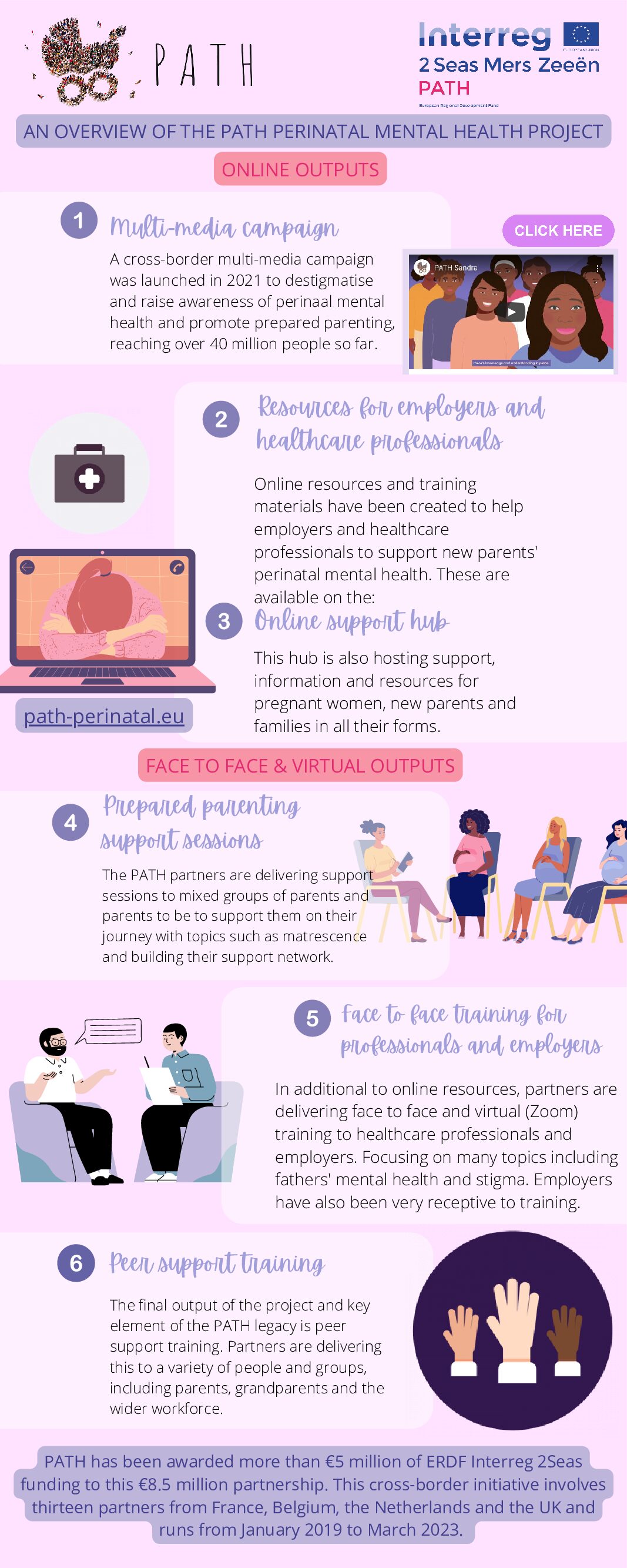 For more on PATH go to: path-perinatal.eu 
PATH  – PerinAtal menTal Health – is part of the Interreg VA 2Seas programme and will run from 1st February 2019 to the 31st March 2023. It receives funding from the European Regional Development Fund, has a budget of over €8.5 million and involves partners from the UK, the Netherlands, France and Belgium (see below for partner details).
PATH  will enable women, families & healthcare professionals to prevent, diagnose & successfully manage mild/moderate PMI via radical systemic change, developing an inclusive, holistic health structure: demand driven & co-created with existing patients & expectant/new parents. PATH will prepare parents pre-birth for their new role & help them avoid PMI; currently feelings of being a failure as a parent lead to a reticence in seeking help: 58% of pregnant women/new mothers fear they would be judged. PATH's multiple entry points including anonymous online services will allow women to access support in a way that best suits them. PATH will also improve the skills of healthcare professionals equipping them to address PMI confidently & effectively.
PATH will create: 
A new multi-media international support hub, including gaming/avatars, to help families develop parental awareness & recognise, prevent & overcome PMI. This will benefit all parents in the partner areas, addressing the stereotype of everybody possessing natural parenting skills.
Scientifically evaluated modular prepared parenting & PMI training (building on existing best practice) to increase knowledge & upskill healthcare professionals/employers/parents. – a multi-media campaign to raise awareness of & destigmatise PMI. This can be suffered by either parent, so raising awareness will also help fathers, recognising & treating symptoms among them early.
Community support groups for new families, increasing self-resilience via the wider community & social networks. PATH will create a new norm of preparing parents & recognising PMI & by providing community care & digital tools in monitoring PMI, send out an early warning message to people & a pathway to help
The Health and Europe Centre is the Lead Partner and will be working with:
Plymouth and District MIND (UK)
Southampton City Council (UK)
Odisee University College (BE)
Kent County Council (UK)
Institute of Health Visiting (UK)
Kent & Medway NHS & Social Care Partnership Trust (UK)
Hospital Centre of Douai (FR)
Antwerp University of Applied Sciences (BE)
Bournemouth University (UK)
Ngo Attachment in Development (BE)
Maasstad Hospital (NL)
World Health Organisation Centre for Mental Health Research and Collaboration (FR)
Karel de Grote University (BE)
There are also 22 observer partners: Postpartum Support International, Kent Police, The British Association for Supported Employment, Hampshire Chamber of Commerce, Service départemental de Protection Maternelle et Infantile, Vereniging van Nederlandse Gemeenten, Réseau Bien Naitre en Artois, Vereniging van Ouders van Couveusekinderen, V&VN Kinderverpleegkunde, Universiteit Antwerpen, Syndicat Mixte du Grand Douaisis, TalkTone Ltd, CIRE – Délégation de Santé publique France en région Hauts-de-France, Data and Services Ltd, Vlaamse Vereniging van Ouders van Couveusekinderen, Vlaamse Beroepsoganisatie van Vroedvrouwen, Expertisecentrum Kraamzorg De Kraamvogel vzw, Patientenfederatie Nederland, Nederlandse Vereniging voor Obstetrie & Gynaecologie. Association Française de Maternologie, Fédération régionale de recherché en psychiatrie et santé mentale, Centre Collaborateur de l'Organisation Mondiale de la santé pour la recherche et la santé mentale.